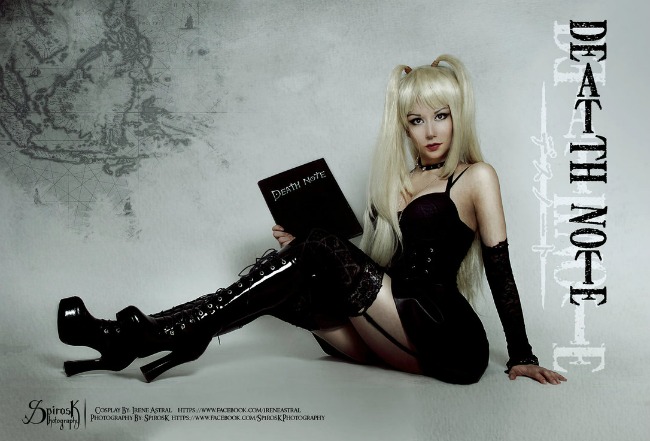 Death Note is a Japanese manga series and an anime TV show. The story is about a supernatural notebook, called the Death Note, discovered by a high school student named Light Yagami. The notebook allows him to kill anybody just by writing his victim's name in the notebook while picturing the victim's face. He uses the notebook as an attempt to cleanse the world of evil. A detective known as L puts forth effort to try to stop Light from playing God.
Misa Amane gains a Death Note and seeks out Light to thank him for killing the person who murdered her family. After meeting him, she begins helping Light however she can and she becomes determined to reveal L's real name. Misa is a very outgoing and popular model, actress and singer. She tends to be impulsive and somewhat ditzy.
IreneAstral's cosplay of Misa Amane is awesome. Her bleach blonde pigtails and gothic attire portray Misa perfectly. She exhibits Misa's determination and confidence explicitly. The photography is so great that the images look like they came right out of the manga. We love every aspect of this awesome Misa cosplay.
Photography by SpirosK Photography
[signoff2]
Hey cosplayers! Want a feature of your own? Submit your photos to our Tumblr page or attach them in an email to [email protected] for a chance to appear on our site!
Written by Guest Contributor: Wonderflexwoman