The time has come once again for another edition of our Most Epic Cosplays of the Week feature!  These cosplays are chosen by you, the fans of cosplay and followers of our Tumblr page who have given these photos the most notes over the past week.  We surely were throwing out a lot of video game cosplay content this week, but even so, one non-gaming  character stood out among the crowd.  All of these cosplays proved themselves to be absolutely epic and fully deserving of the spotlight.  So without further adieu, this week's most epic cosplays!
5. Alice Liddell, Alice: Madness Returns
Cosplayer Lady-I-Hellsing created this amazingly gory yet strangely beautiful cosplay of Alice: Madness Return's Alice Liddell.  Although we have seen many Alice cosplays, this one is unique in the sense that she chose to create a costume of Hysteria Mode Alice, one that is less commonly portrayed.  With blood pouring out of her eyes and Alice's signature blue butterflies, Lady-I-Hellsing perfectly evokes everything that is Alice and without a doubt is deserving of a place on this week's list.
4. Jill Valentine, Resident Evil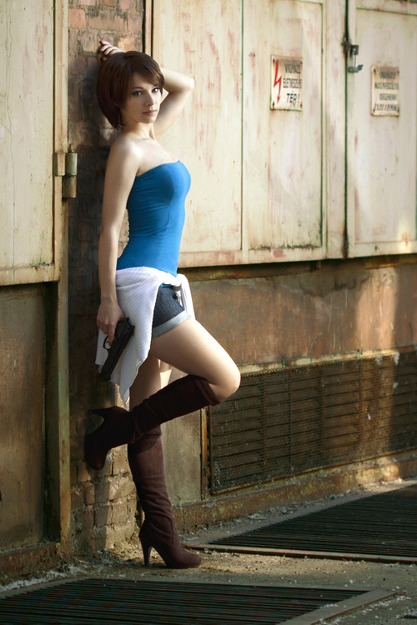 Resident Evil characters are surely a popular choice when it comes to cosplay.  Whether it be Ada Wong, Claire Redfield, or Jill Valentine, you can find Resident Evil cosplays everywhere across DeviantART and Tumblr– and for good reason! Who wouldn't want to dress up as an insanely badass, zombie-killing machine like these three ladies?  Well, cosplayer EnjiNight surely did as she created this epic ensemble of Resident Evil's Jill Valentine.  Awesome!
3. Chun Li, Street Fighter
Similarly to Resident Evil, Street Fighter characters are also insanely popular in the cosplay community.  One of the most popular would be the adorable, yet incredibly powerful, Chun Li.  While most cosplayers don her standard blue ensemble, cosplayer Miss Gidget rocks Chun Li's black, form-fitted gown with gold trip, sported along with god bangles.  With perfectly done Chun Li-style hair buns and an epic pose, Chun Li can't get much better than this!
2. Connor Kenway, Assassin's Creed III
Ranking number two on our list of this week's Most Epic Cosplays is this costume created by the ever-so talented Dayna Baby Lou.  It is nearly impossible to find a gamer who doesn't list the Assassin's Creed series as one of their all-time favorites.  Dayna decided to pay homage to her favorite AC character, Connor Kenway, in the best way she knows how– through cosplay!  The end result turned out to be absolutely stellar, and she surely looks ready for action.  We can't wait to see what else Dayna has in store for 2014.
1. Anna, Frozen
And finally, coming in at number one is this absolutely beautiful cosplay created by the wonderful Courtoon.  Creating a costume of one of Disney's newest, yet incredibly loved characters, Anna from Frozen, Courtoon completely embodies Anna.  From the costume packed full of intricate details, not missing a single thing, to the strawberry blonde hair in braided pigtails, Courtoon looks as close to Anna as one could possibly get.  Placing herself in a snowy setting, Courtoon adds that extra touch of realism to make this photo highly deserving of this week's most amazing cosplay.
Want a chance to be featured in next week's list? Be sure to submit your photos to our Tumblr page!
[signoff2]