Photography by Francesco Ambuchi
From flying through town with an umbrella, to pulling an entire room from what appears to be a normal carpet bag, Mary Poppins proves to be anything but a dreadful nanny! She is "practically perfect in every way." She isn't alone when it comes to being a curious character- her friend Burt is right there with her. Artist, musician, poet, salesman and chimney sweep, Bert is the jack of all trades. Together, all sorts of fantastical fun ensues! It's no small wonder that finding an epic Mary Poppins cosplay would be at the top of our to-do list!
Mary Poppins Cosplay
If there's one word to describe Lady Giselle and FraSoldiers Mary Poppins cosplay costumes, it would be "Supercalifragilisticexpialidocious". They recreated Mary and Bert's outfits from their adventure in the sidewalk painting, a lush cartoon world! Burt's bold stripes and Mary's sweet red accents match perfectly, making them a stand out duo, in the most dapper and elegant of attire! Classic Disney at its finest! They didn't miss a single detail!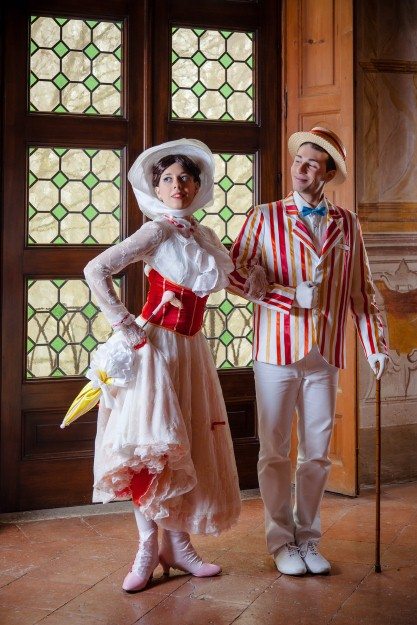 See more of Lady Giselle and FraSoldiers costumes over at their DeviantArt accounts!
Written by Guest Contributor: Skirtz