It's Star Wars Day, so there couldn't be a better time for a sneak peek at the Star Wars: The Force Awakens cast. The newest character images, which were shot by famed photographer Annie Leibovitz, are featured in the newest issue of Vanity Fair. Check them out below!

Rebel scum and stormtroopers join forces on our new #StarWars cover http://t.co/26F83laXQN pic.twitter.com/UoUCkYh3Ck

— VANITY FAIR (@VanityFair) May 3, 2015


Lupita Nyong'o, whose character will be CGI'd, will play a space pirate named Maz Kanata:




Here's a look at Episode VII villain Kylo Ren, played by Adam Driver. Driver's bad guy commands the First Order, which is based on an ice planet and has snowtroopers. No wonder he looks so grumpy.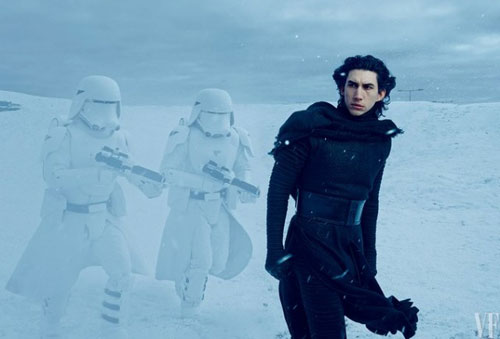 Last, but certainly not least, here's a look at Gwendoline Christie's Chrometrooper:

Also, @VanityFair introduces Gwendoline Christie (@lovegwendoline) as Captain Phasma! #MayThe4thBeWithYou pic.twitter.com/BPpaASR0DP

— The Force Awakens (@EpisodeVII) May 4, 2015


Check out a video of the Vanity Fair shoot below, or view all of their Episode VII set photos here.